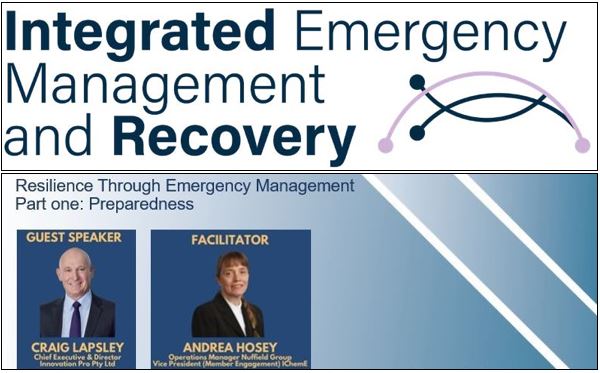 The first of our 3-part leadership webinar series on 'Emergency and Crisis Management' attracted representatives from across many different industrial sectors including energy, agriculture, manufacturing, oil, and gas.
Nuffield Group was fortunate to have Craig Lapsley as our guest speaker; Craig is one of the world's foremost experts in emergency management, leadership and change.
The webinar focused on the "Before" aspect of the emergency management continuum because, as Craig made clear, if you have not undertaken the necessary planning before an event there is a high likelihood the 'Response' and 'Recovery' phases will fail.
I want to take this opportunity to highlight the key points of the webinar to help attendees (and others) understand how they can improve the relevant Emergency Management documents and approaches in their organisations.
Craig's insights and experiences provide a great perspective on the importance of the 'Before" and taking time to plan. Managing incidents in their incipient stages is critical to prevent their escalation to a disaster, progressing to an emergency and finally becoming a full-blown crisis.
The focus of the presentation was a model framework including:
Leadership
Teamwork
Capability and Capacity (individuals & teams)
Risk and Consequence (internal and external requiring understanding and managing the impacts
Communication and Governance.
One of the key points in preparedness is the implications of not undertaking planning, exercising, working as a team and being ready. There are many reports highlighting the terrible outcomes for individuals, businesses, and communities that have suffered from an emergency managed poorly and, as Craig identified, the operating environment is more complex and challenging today than it has ever been. The rapid dissemination of information (fake and true) driven by digital media makes the scrutiny on individuals and organisations ever more intense and highlights the importance of looking after the health and safety of people involved in an emergency.
Leadership during an emergency is critical. The emergency management system needs to be owned by the CEO and the Executive of the organisation. The CEO must maintain oversight, exercise stewardship, and take accountability for the development, readiness, and operation of the organisation's emergency management system. The values and culture of the organisation play a significant role in the way it will respond and act during an incident.
In the 'Before, During and After' phases of an emergency, teamwork is fundamental in delivering success, no different to the day-to-day operation of any organisation. It is important for an integrated, whole of organization, approach when preparing, responding, and recovering from an emergency. Siloed approaches are far less effective. Individuals achieve little in comparison to high-performing teams.
When it comes to teamwork understanding the capability and capacity of the team is another key factor. Managing an emergency is different to business-as-usual operations and it is important that there is a mix of leaders, managers, and technical experts to fill the various roles required in the team managing an emergency. The planning phase should identify the capacity of the team to operate under duress, as well as identifying people who have the requisite attributes to lead, manage and deliver technical specialties under the adverse conditions that prevail in an emergency.
Another critical aspect is understanding the risks and consequences an emergency will have on an organisation in a broader sense. The planning phase must consider the potential risks and consequences that will emerge. The direct impacts on the organisation internally, and externally on suppliers, customers, and other stakeholders.
Communications during an emergency must be timely, tailored, clear, and relevant. They need to be honest, transparent and part of a two-way process internally and externally, and a variety of communication channels will always be necessary to keep all stakeholders and the community informed.
Resilience is a much-used word these days but put simply it is the ability to recover from the stresses and shocks of an event. Take Climate Change (or changing climate) for example; It's a stressor and the shocks that occur are the floods and fires we witness. The important point for business is that it understands the stresses and shocks that are impacting it (or may impact it) and develops controls to build resilience.
If you'd like to watch or share the webinar you can find it on our YouTube channel.
Nuffield Group has also produced a short (17 question) Q&A assessment tool for anyone who wants to understand their or their organisation's readiness to deal with an unplanned incident or emergency.
Click here to have a go, it's free and takes just 5 minutes: Emergency Management Preparedness self-assessment tool
This webinar series and self-review tool are brought to you by Nuffield Group's Integrated Emergency Management & Recovery team.
https://www.nuffieldgroup.com/wp-content/uploads/2021/10/IEMR_Webinar_2.jpg
373
600
Tony Murphy
https://www.nuffieldgroup.com/wp-content/uploads/2021/01/NG-Logo-Horizontal-450_159.png
Tony Murphy
2021-10-29 01:43:35
2021-10-29 01:54:56
Emergency and Crisis Management – Preparedness